Delivery and Editor's Pick -
GoGo Xpress Packaging Guidelines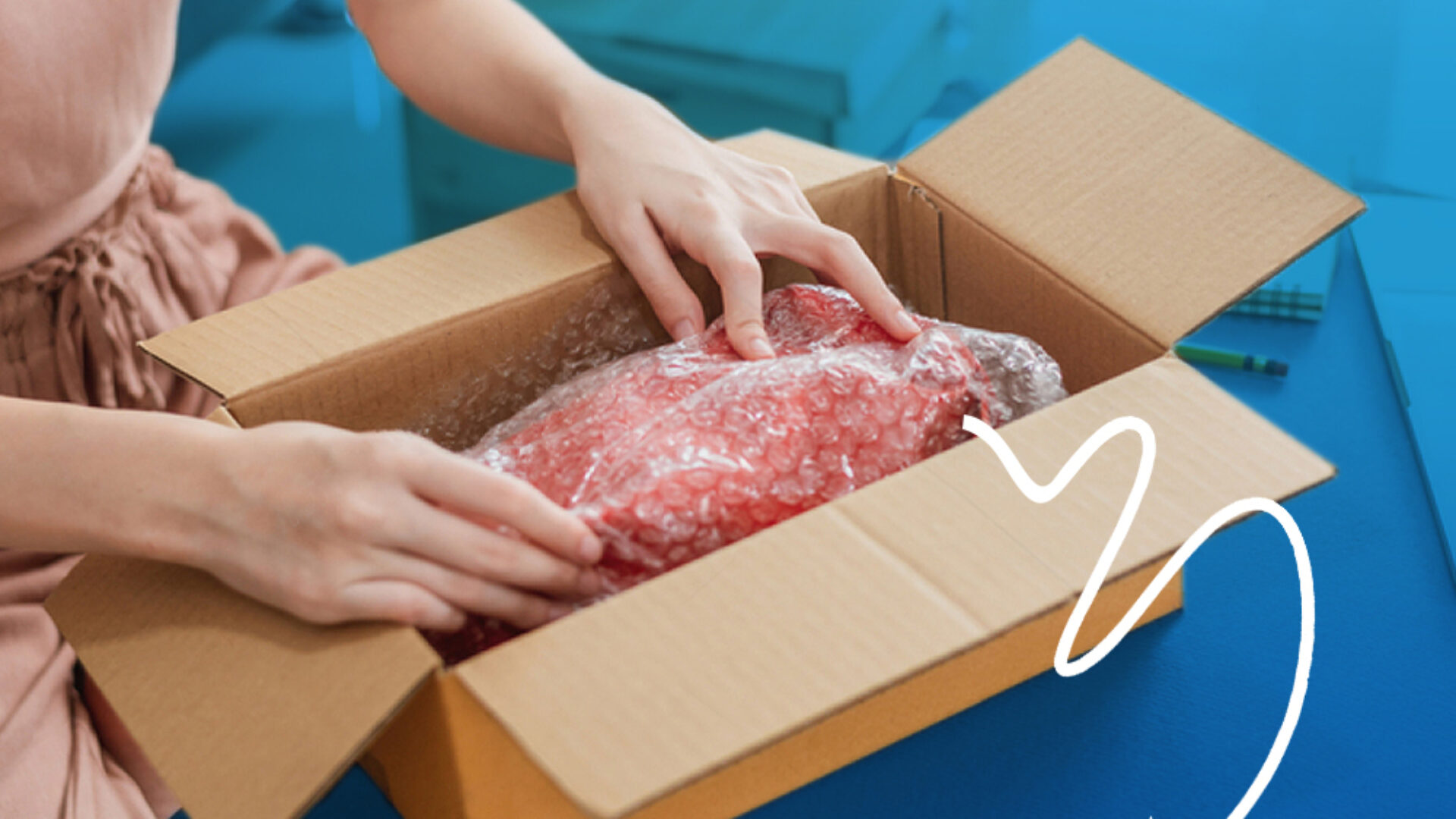 Whether you're looking for general guidelines for packing day-to-day shipments or specific guidelines for specialty items, you can find them here. Please note that GoGo Xpress customers must strictly follow the terms and conditions implemented. Refer to ANNEX 4 Cargo Restrictions, Prohibited Goods, and Packaging Policy.
Product Grouping Overview and General Guidelines

For Shopee Sellers
Shopee Sellers using GoGo Xpress as their partner courier must strictly follow the Unified Packaging Guidelines released by Shopee in their Seller website.
Non-Breakable Items
Items that have no tendency of being deformed, broken, or damaged in transit can be considered non-breakable. Examples are T-shirts, Curtains, Rug, Towels, Beddings.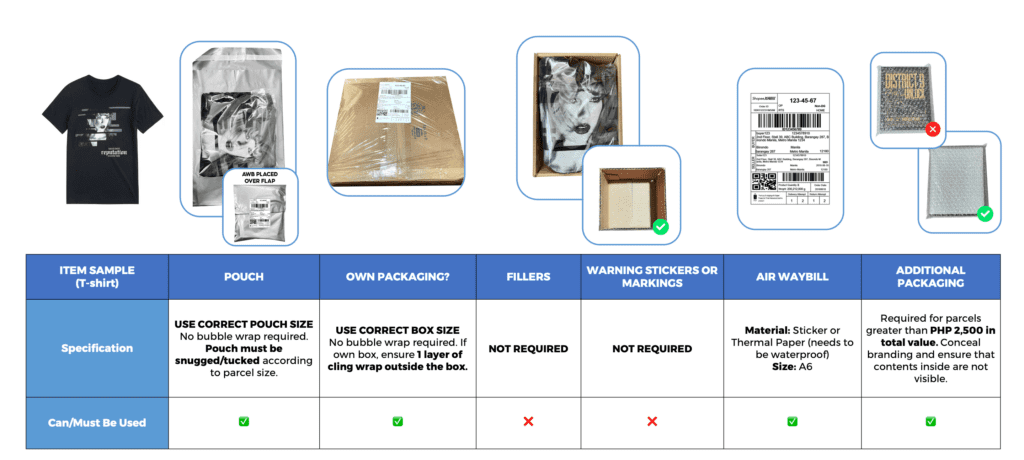 Potentially Breakable Items
Items that are not fragile and not spillable, but have the tendency of being deformed, broken, or damaged in transit when not packed properly can be considered potentially breakable. Examples are Shoes, Bags, Toys, Cellphone Casing, Paper Products, Decors, Potato Chips, Snacks, Candies.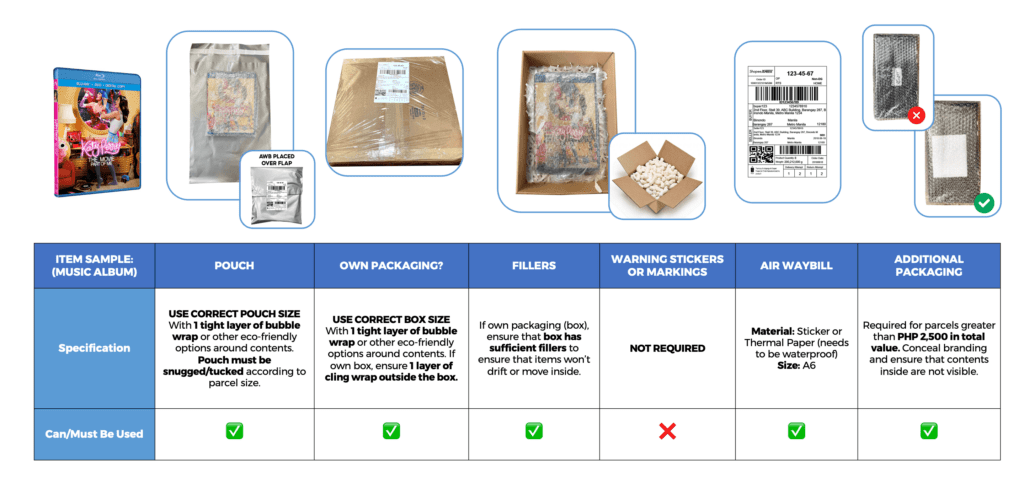 Spillable Items
Items that have the tendency of its packaging/container being deformed, broken, or damaged, and its content being spilled while in transit when not packed properly can be considered spillable. Examples are Liquid, Emulsion, Grains, Seeds, Powder, Gel Contents, Wet Wipes, Facial Masks, Food Items with Liquid and Grain Contents, Pressurized Liquids/Emulsions up to 50 kgs.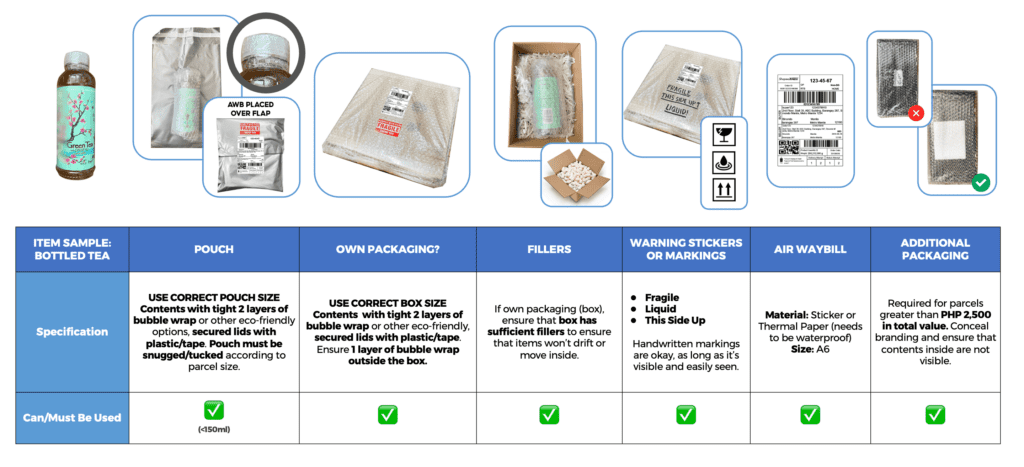 Fragile and Breakable Items
Items that have a very high tendency of being deformed, broken, or damaged while in transit when not packed properly can be considered fragile and breakable. Examples are Candles, Ceramic Plates, Glass Jars, Plastic Bottle Containers, Electronic Accessories w/ Batteries such as Mobile Devices, Tablets, CDs/Disks.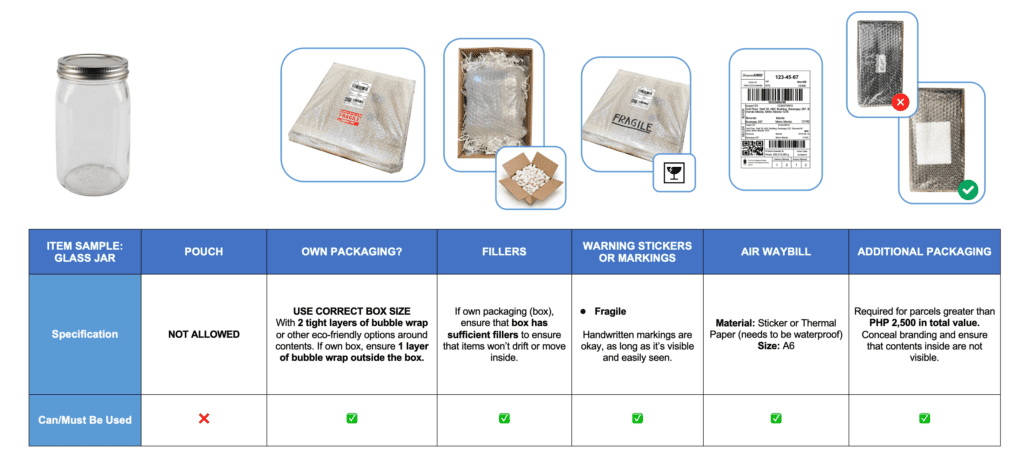 Bulky and Heavy Items
Items that are of high volumetric weight (length, width, or height exceeding 100 cm) or high actual weight (greater than 10 kg) can be considered bulky and heavy. Examples are Appliances, TV, Monitor, Equipment, Machines, Motors.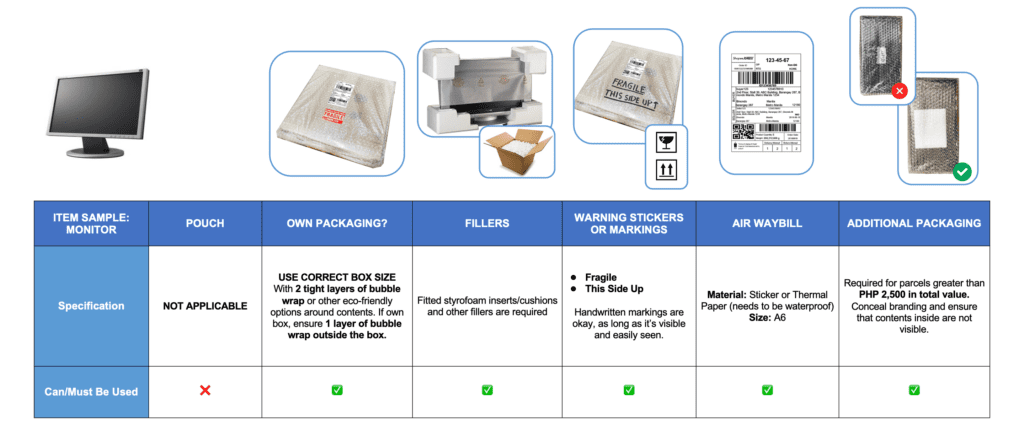 Multiple Items
'Multiple items' pertain to orders or packages that contain items from different groups aforementioned.
Examples are:
Shirt (non-breakable) + music album (potentially breakable)
Cellphone (fragile and breakable) + cellphone casing (potentially breakable)
Potato chips (potentially breakable) + bottled drink (spillable)
If a parcel contains multiple items, follow the more restrictive packaging guidelines. For example #1, the potentially breakable guidelines must be observed, since the music album should follow the stricter packaging guidelines.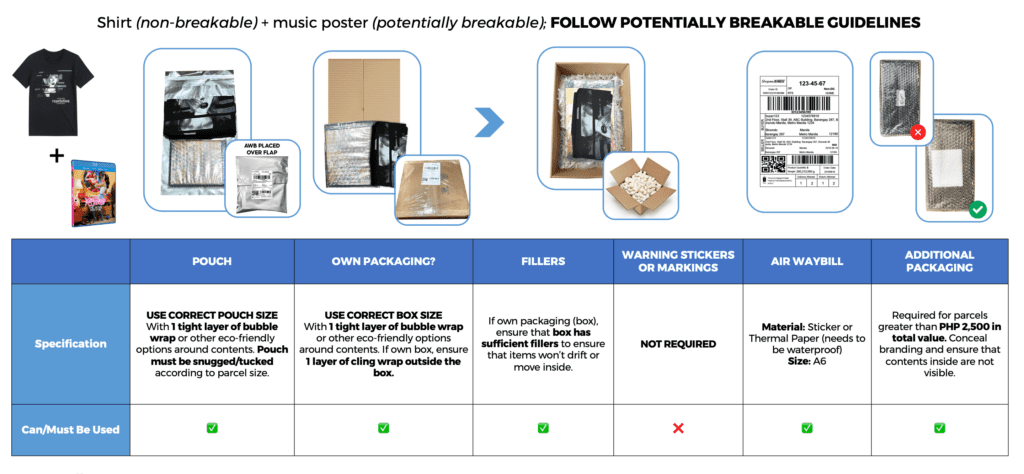 Pouch Packaging for Small Items
When using pouch packaging for small items, the pouch must be tucked and snugged repeatedly. There should be minimal excess space but must have enough space for the air waybill.
Make sure to follow the other filler / warning sticker requirements of the Product Grouping that your item belongs to.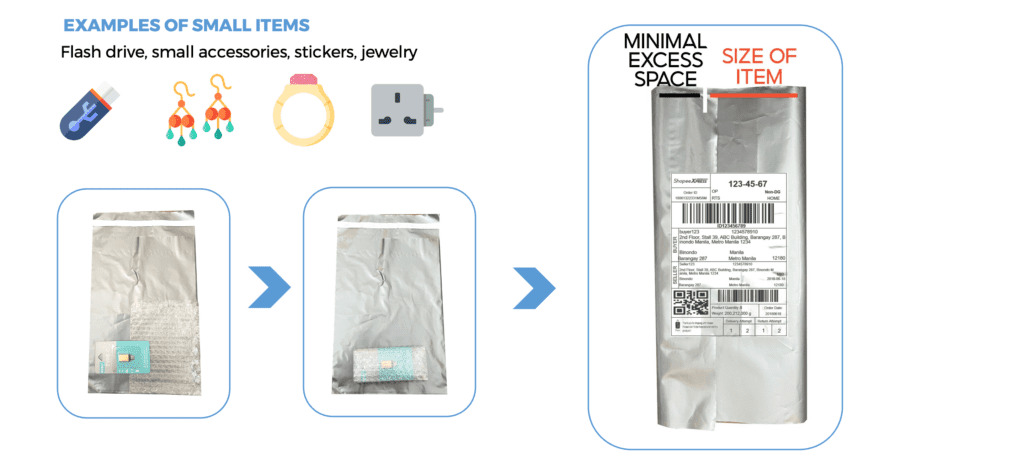 Special Packaging Requirements
These are the items that are, at times, acceptable, or require special packaging and proper declaration. Read ANNEX 4: Cargo Restrictions, Prohibited Goods, and Packaging Policy for more detailed information.
Special packaging is necessary to ensure that the item/s can withstand risks brought on by transportation movement (from loading trucks to third party-airline handling to distribution center consolidations).
A. Some items that fall under this classification include electronics, televisions, computers, phones, etc.
Packaging Guidelines:
For Laptops, Two-Way Radios, and Cellular Phones, batteries must be attached to the unit with the power turned off.
Spare batteries, lithium metal batteries (i.e. AA, AAA batteries, regardless of brand) cannot be transported via Air.
For items with an internal power supply, rechargeable devices or non-detachable (i.e. Watches; calculators; Apple products: iPhones, iPads, iPods), customer associates must ensure that the item is turned OFF or cannot be operated.
B. Cosmetics (i.e. make-up, cream products, hair products, etc)
Packaging Guidelines:
The aforementioned items should be properly sealed. Liquids sealed with just a friction-top, or push down caps (I.e. Lotion, shampoo) must be reinforced with packing tape.
C. Items that are prone to breakage (i.e. wine, glassware, ceramics)
Packaging Guidelines:
Wine or breakables should be packaged in such a way as to avoid breakage with additional packaging if necessary.
A Fragile sticker/label should be affixed to the shipment
D. Medicines and Health Supplements
Packaging Guidelines:
Pharmaceutical products- Over-the-counter medications are acceptable (I.e. Paracetamol). Other medications must be properly labeled.
Health supplements should be properly labeled (I.e. Packed fruit/vegetable extracts like Ampalaya Plus or similar)
E. Non-flammable and Non-hazardous Liquids (i.e. water, drinks, syrup, ink, jams, etc.)
Packaging Guidelines:
Items classified as such should have inner packaging or a container or plastic bag. They must be securely sealed with no leaks. The sealing cap must be reinforced with tape.
Air Waybill Guidelines
The Air Waybills (AWB)air waybill acts as a proof of consignment and contains important information such as the order details.
Air waybills will also indicate the order ship-by-date (SBD). Sellers should use this as a reminder to ship out orders on-time.
Before sending out, it should be attached to the parcel, with the barcode and details visible to logistic providers.
Air Waybill Printing Specifications
Air Waybills (AWB) AWBs must be printed on A6 Size Sticker Paper. Paper must be waterproof and smudge proof, so it is highly recommended to use thermal printers in printing.
Do's and Don'ts

DO stick the Air Waybill (AWB) over the pouch flap when using pouch packaging. For its own packaging, it must be stuck on the top of the box, covering the box's slit/flop.
DO make sure that the barcode is prominently displayed.
DO protect the Air Waybill (AWB) with transparent tape
DON'T cover any area of the Air Waybill (AWB) with other shipping labels, stickers, documents, or opaque tape.
DON'T use printed Air Waybill (AWB) with faded or smudged print.
DON'T alter or add any texts and elements on the Air Waybill (AWB) format generated from the Seller Centre.
Acceptable Dimension
Midmile Team has set a standard tolerance level about the accepted maximum dimensions and weight for all Shopee Tiered Pricing only.
Max allowable weight should only be 20.2 kgs only while 100.55cm x 100.55cm x 100.55cm.
Best Practices for Packing your Item
Use the Right Packaging
Make sure you choose the correct packaging that is closest to the actual size of your item. We offer the following options but if the item does not fit in any of our pouches or boxes, you may use your own packaging as long as the item is packed securely.
Sizes:

Small Pouch (9.5 x 14 in. | Max 3 kg)
Medium Pouch (12 x 18 in. | Max 5 kg)
Large Pouch (15.5 x 20 x 4 in. | Max 10 kg)
Box (18 x 12 x 9 in. | Max 6 kg)
For oversized shipments or if you will use your own packaging, use a rigid, double-walled corrugated box. Make sure it is rigid and in excellent condition with no punctures, tears, rips, or damaged corners, and that all flaps are intact. You can customize your own box to perfectly fit your item but will not exceed 1 meter in diameter and max of 20kgs only.
Use EXTRA Protection

All Fragile items (e.g. ceramics, glass, candles, etc.) should be placed in a box and not in a pouch. Wrap items individually in protective materials such as bubble wrap or foam casing to prevent them from damaging one another and ensure that all sharp edges are padded. For better protection, cushion your items with polystyrene foam peanuts or crumpled paper and center them in cartons away from other items and away from the sides, corners, top and bottom of the box.
Bottles and liquid items such as liquor, detergents or health and beauty products must be placed in a box and in an upright position with warning stickers pasted outside the box. Pack the bottles individually using a bubble wrap and use dividers for multiple items to prevent them from damaging one another. Bottled products must be tightly corked and sealed. The cap of the liquid items are required to be securely wrapped with shrink wrap to avoid leakage. A minimum of 3 layers of bubble wrap on all sides should be used. Mark your outer packaging "Fragile".
Products that have boxes should be wrapped at least twice with a bubble wrap.
High value items should always be placed in a corrugated box.
Electronic items such as laptops, PCs, tablets, cell phones must be well protected against potential damage. Pack the item/s using all the original packaging components or use the box-in-box method. Ensure that all electronic devices are powered off and batteries should be detached from the device if possible.
Items inside the box should not move. Ensure that the box has sufficient fillers (styrofoam, cushions, cardboards or recycled paper) inside to fill void spaces and prevent movement of items inside the box during shipping.
Keep in mind that your packaging should be able to withstand risks or any normal impact brought on by transportation movement (from loading trucks to third party-airline handling to distribution center consolidations).
Put warning stickers or markings to all fragile and liquid items.
Proper Sealing of Package

Seal the pouch within the labeled sealing area, even if your item is smaller than the pouch.
For boxes, ensure that boxes are not oversized/bulging.
Use heavy-duty carton sealing tape and apply at least 3 strips of packing tape to the ends and bottom sides of the container using the 'H' taping method. Tape should be applied to the box where the flaps meet.
Products that are fragile must have a fragile sticker labelled on the carton box.
Products with specialised packaging (e.g. seasonal gift boxes) must be shrink or bubble-wrapped before being packed in a carton
Proper declaration of the contents and value of the package.\

Gogo Xpress' liability for any loss or damage with NO DECLARED VALUE, shall only be limited to the value of the item or Php 500.00, whichever is lower.
For lost or damaged shipments with DECLARED VALUE, liability shall only be limited limited to the (i) value declared in the GoGo Xpress system, regardless of the actual and/or declared content of the Package and (ii) refund of the delivery fee, if applicable. For insured items.
For delay in delivery: Liability is limited to a refund of the delivery fee actually paid by You.
Claims need to be submitted in writing and sent via email to customercare@gogoxpress.com, within the periods stipulated below.

For Claims on incomplete or damaged orders, the Claim must be made within 72 hours from the date of delivery of the relevant Item to the Buyer or date of return to the Seller.

For Claims on undelivered orders where the package is still in-transit, except if confirmed by GoGo Xpress as Return-To-Shipper (RTS) orders, the Claim must be filed within the following periods, reckoned from the pick-up date by the Fulfillment Partner (the "Delivery Commencement Date"):

For Metro Manila deliveries: Within 10th up to latest 20th day
For Provincial deliveries: Within 15th up to latest 25th day

For Claims on Return-To-Shipper (RTS) orders that have not been returned to You within fifty (50) days from the Delivery Commencement Date, You shall have ten (10) days from the last day of the 50-day period to file a Claim.
Any claims received after this period will not be honored.
Contact Us for more information.