Merchant -
The Ultimate Checklist for Shopify Shipping in the Philippines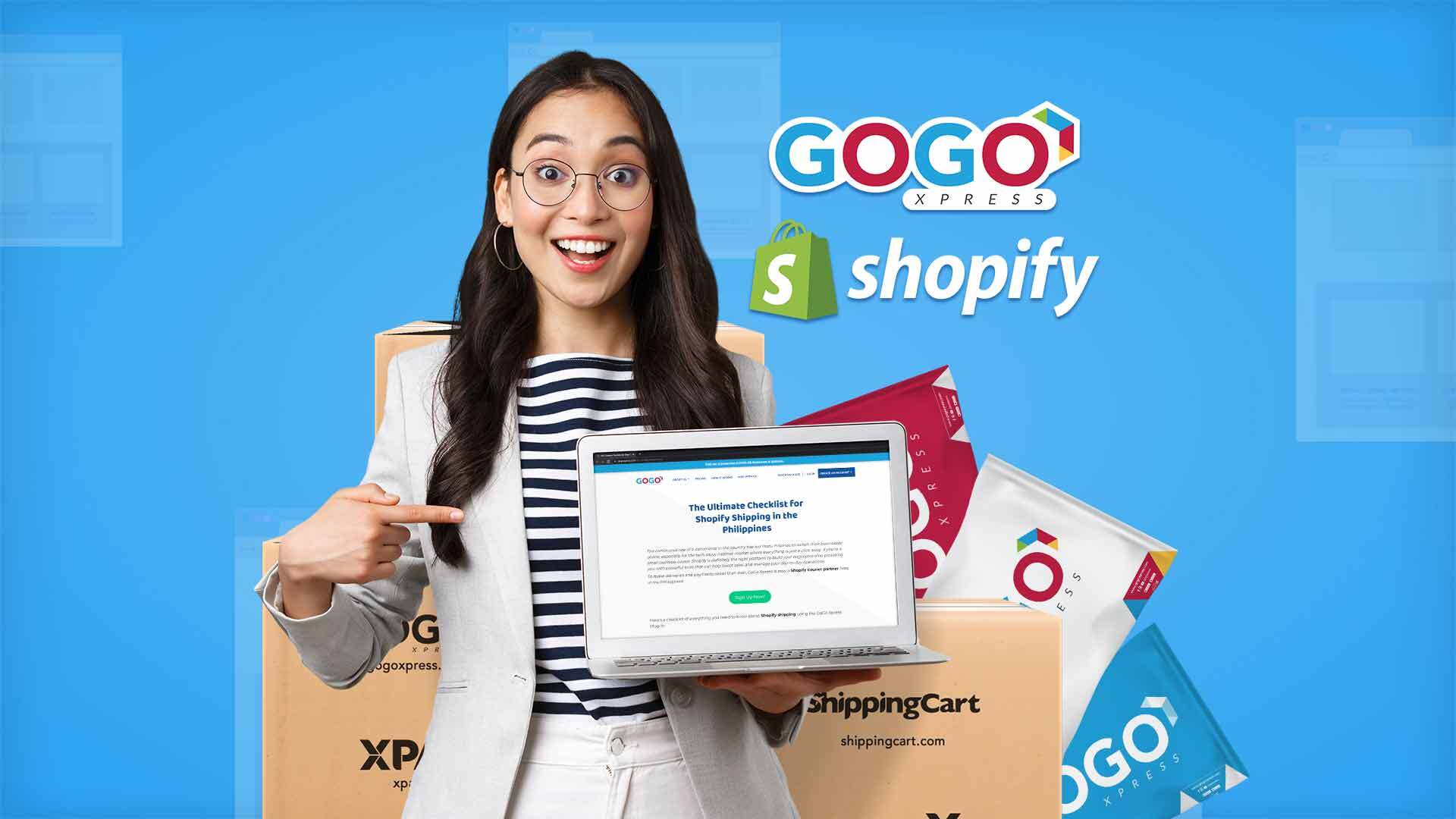 The continuous rise of e-commerce in the country has led many Filipinos to switch their businesses online, especially for the tech-savvy internet market where everything is just a click away. If you're a small business owner, Shopify is definitely the right platform to build your negosyo online providing you with powerful tools that can help boost sales and manage your day-to-day operations.
To make deliveries and payments easier than ever, GoGo Xpress is now a Shopify courier partner here in the Philippines!
Here's a checklist of everything you need to know about Shopify shipping using the GoGo Xpress Plug-in:
✔ Fast Integration
Get started by installing the GoGo Xpress Shopify Plugin and logging in to your Shopify store. Click "Install App" and log in to your GoGo Xpress account or register for a new account. Set up the address where our GoGo Xpress Rider Partner will pick-up booked Shopify store orders and nominate and enter your bank account details.
Finally, login to your shopify store by entering your store URL and click "Install Plugin" to complete the installation process. You will be redirected to your GoGo Xpress Shopify Dashboard.
You can also link your Shopify store by going to your GoGo Xpress dashboard, click "More Features", then choose "Shopify Integration". Click "Get Started For Free" to set up your account.
✔ Nationwide Pick-up and Delivery Coverage
Whether you're a seller from Luzon, Visayas, or Mindanao, GoGo Xpress has pick-up and delivery locations all across the Philippines! Learn more about our list of serviceable areas.
✔ Free & Convenient Pick-up
No worries, no extra fees! When requesting pick-up, use the GoGo Xpress Shopify App, go to "New Orders" and click "Request Pick-up". Select your pouch size and confirm your pick-up.
If you book before 2 PM you can have your item picked-up the same day for a faster transaction. Click BOOK NOW and your order status will now change to FOR PICK-UP.
✔ Option for Delivery Fee to be Paid by the Sender or Receiver (COD)
Whether payment will be covered by the Sender or Receiver, this is no problem at all! After selecting your pouch size, choose the payment option that indicates it will be paid by the sender then click CONFIRM PICK-UP.
Merchant will receive SMS, in-app, and Shopify push notifications after booking orders and the Buyer will receive SMS notifications.
For Cash on Delivery (COD) paid by the Receiver, all you have to do is select "Payment Due Later" after creating your order and "Payment Terms" will pop out at the bottom. Choose "Due on Receipt", click "Create Order" and change your expected payment method to "Cash on Delivery (COD)". Click "Create Order" and you're good to go!
✔ Shopify Cash on Delivery Service
If you don't have Cash on Delivery (COD) set up, all you have to do is go to "Settings", click "Payments" then go to "Manual Payment Method" and select "Cash on Delivery COD". Your Cash on Delivery payment method is now activated!
✔ Real-Time and Accurate Shopify Order Tracking
To check your delivery status, all you have to do is refer to the "Processed Orders" tab and click "Track". Buyer can also track orders by inputting their tracking number here.
✔ Trouble-Free Cancellation
Successfully booked COD and Non-COD orders with the status "For Pick-up" or "Booking Confirmed" can be cancelled. Just go to "Orders" and click on the order/s to cancel. Select "More Actions" then indicate the reason for cancellation. Select "Cancel Order" and your order is now canceled.
Congratulations! You're all set to making your Shopify local deliveries more reliable and convenient with GoGo Xpress. As your online biz partner we're here to help you grow #BookNaWithGoGoXpress!
For more questions you can visit our Help Center.