ANNEX 8 Disbursal Policy
Capitalized terms used herein, where defined in the General Terms of Service Agreement, shall have the same meaning and definition as indicated therein.
We may be in possession of the earnings you get from the sale of Your Items through the Services (less fees, charges, and penalties due under the Terms) (the "Earnings"). We will disburse Your Earnings to Your nominated bank account pursuant to the Terms (the act of disbursement shall be referred to as "Disbursals" and each a "Disbursal"). We do not accept cash cards as nominated bank accounts and the same will be considered invalid. You are responsible for ensuring that the details of your bank account which You enter in our Service are correct. If the bank account that you have nominated is valid but is owned by a different person, it will be your responsibility to coordinate with the bank and the account owner to reverse the deposit, we will only supply you with supporting documents to help with your claim against the bank account owner and or the bank.
You authorize Us to collect payments from your Buyers on your behalf for the purpose of fulfilling our obligations to You.
In cases where the declared/submitted Seller Bank Account information is incorrect, incomplete or fictitious which prevents us from Disbursing your collected fees.We will reach out to request for the Bank information to be corrected or updated. If after 3 Months from Disbursal Date and still have not received any information, all affected transaction fees or for disbursement will no longer be Disbursed and you waive your right to file claims to recover it.
We follow a bank based Disbursal schedule. Please refer to the following schedules (the "Disbursal Schedule") based on Your preferred bank account:



We reserved the right to modify Our Disbursal Schedules, subject only to a 14-day prior notice.
In an event of Dispute between You and Buyer, We will be withholding Your Disbursal until a resolution is agreed upon, which may result in the following scenarios: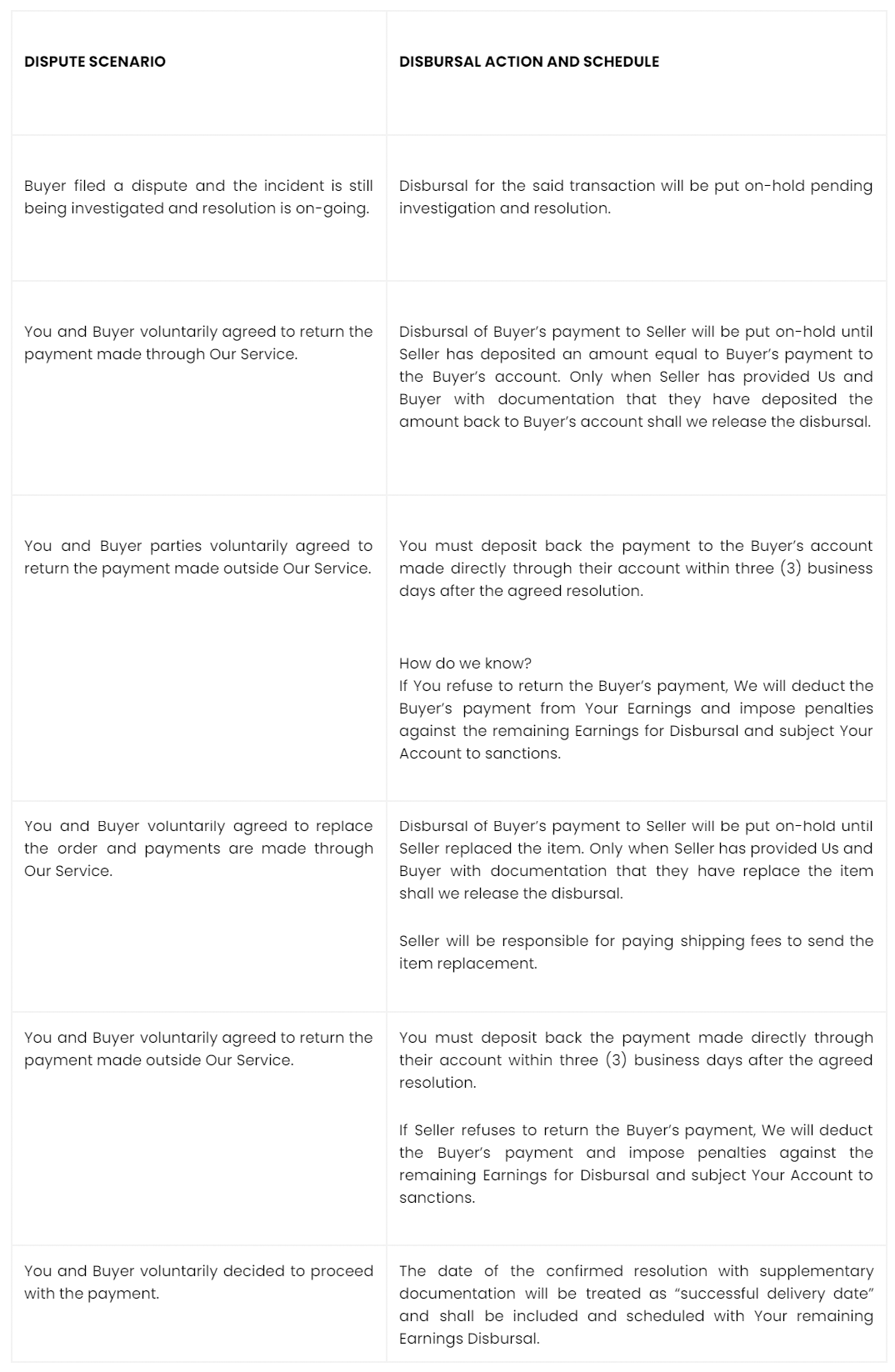 We will not be liable for any damages borne out of delays in Disbursals caused by Your preferred bank account or bank. We reserve the right to find solutions to disburse Your earnings through other means provided Your nominated and preferred bank account is not able to solve their internal incident and problem/s that is causing delay within five (5) business days (business days refer to weekdays and shall exclude weekends, public holidays, special non-working days, and other days when the banks in the City of Makati are closed) and You will cooperate with Us by complying with additional conditions We may impose such as signing of disbursal agreements to facilitate disbursal of your Earnings to other banks or means.
Should Your demerit points reach 30 points or your sustainable use metrics fall beneath our standard and/or should We suspect fraudulent activity of any kind, We retain the right to hold the Disbursal of any of Your Earnings until the issue has been resolved. Investigation will be made and, if violations are accordingly found, applicable penalties shall be imposed against Your remaining Earnings as indicated in ANNEX 12 Merchant Quality Policy and ANNEX 11 Fraud Policy.
We retain the right to charge deductions against your Earnings if Your Bank Account details are incorrect or invalid. We will not be liable and responsible for processing Disbursals based on incorrect Bank Account details which You have inputted into Our Service. You shall be responsible for resolving said issue with Your Bank.